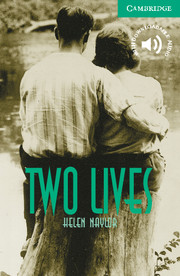 Title: Two Lives
Author: Helen Naylor
Genre: Romance
Publisher: Cambridge University Press
Level: Pre-Intermediate
50 years ago, Huw and Megan were a happy couple in a little Welsh town. But the power of destiny forced Huw to leave the town and go to Canada, so Megan stayed alone with her baby and parents. Huw didn't send any postcards telling Megan about him or about his new life in Canada.
50 years later, Megan discovered that his father, who was already dead, had been keeping a lot postcards from Huw. Now, Megan could contact her beloved again , but she was about to marry a friend she had met at work. Megan would have to choose her future without help, in a romantic story between past and present.
I give this book a 3/5. It was an easy book, with a very predictable plot, but it gets you from the start. I had to read and read, so that I could get to know the end of the story. I don't recommend it to people who don't like romantic stories, but if you don't mind reading a bit of romance, then Two Lives is your book.